Often Law Enforcement Officers are given assignments through their employment that require them to see, experience, and resolve both violent and emotional situations that can cause various degrees of PTSD. The ramifications of PTSD may or may not be noticed by fellow employees, union leadership, attorneys, employers, or the employee's families. The need for the ease of access for a member to seek and receive assistance in a manner that ensures that such employees feel safe and secure in an environment which would not cause an employee to feel as though they would receive repercussions by their employer/employees.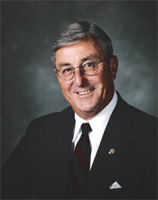 DENNIS J. SLOCUMB
EXECUTIVE VICE PRESIDENT EMERITUS & POLITICAL DIRECTOR
Dennis J. Slocumb served as the International's Executive Vice President from July 2000 until his retirement in 2012. The I.U.P.A granted him the title of Executive Vice President Emeritus and he currently serves as a L.E.O.R.F. Board Member as well as the principal I.U.P.A. Legislative Liaison to the United States Congress, The White House, and various non-governmental and governmental agencies on federal legislation affecting law enforcement.
Prior to the I.U.P.A., Dennis was President of the Los Angeles County Professional Peace Officers Association (PPOA), which represents over 6,000 sworn and non-sworn law enforcement professionals. He is a 32-year veteran of the Los Angeles County Sheriff's Department, where he worked a variety of assignments in patrol and detective units, including time with the Special Investigators unit, and attained the rank of Detective Lieutenant. He holds degrees from the University of California at Redlands and Compton Junior College.
Dennis currently serves on various committees to include the National Law Enforcement Officers Memorial Strategic Names Committee.
Reservations through L.E.O.R.F. 1-800-247-4872 or by email at: [email protected]