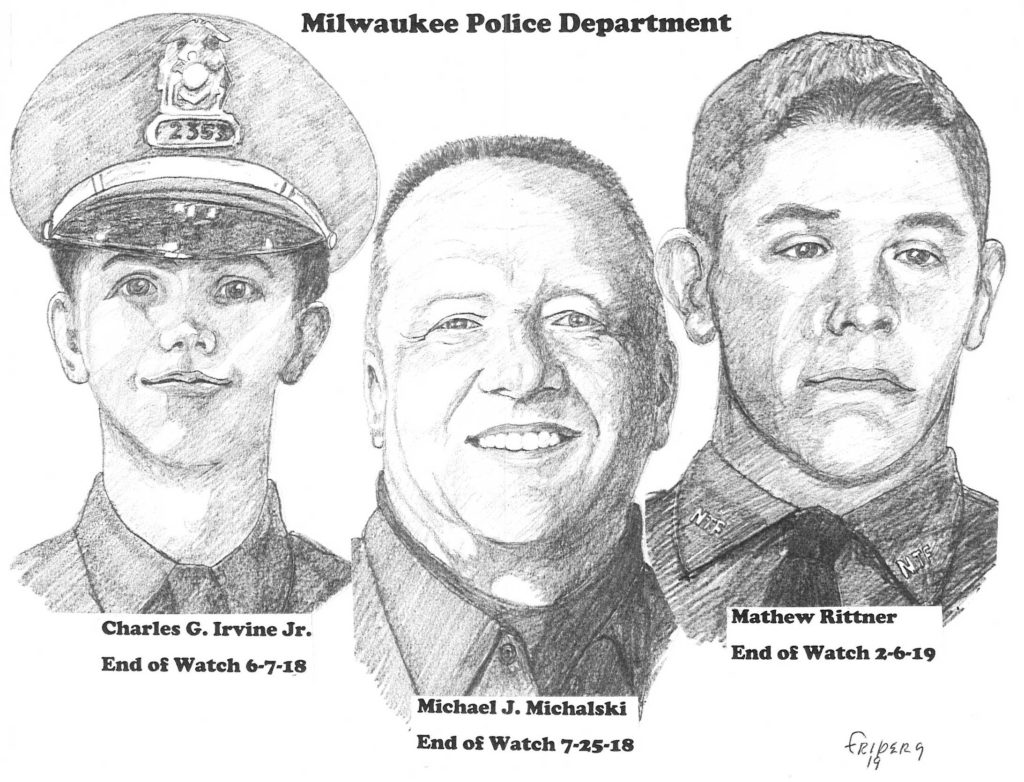 The Law Enforcement Officers Relief Fund joins with the Milwaukee Police Association, Local #21, in mourning the loss of Police Officer Charles G. "Chuckie" Irvine, Jr.; Police Officer Michael J. Michalski; and, most recent, Police Officer Mathew J. Rittner. Prior to the loss of "Chuckie" June 7th, 2018 the Milwaukee Police Department had not added a Fallen Hero to the wall since the tragic loss of Police Officer Wendolyn Tanner; EOW: September 9, 1996. Then, unfortunately, within a mere eight month period, these three heroic officers' lives have been lost.
This rise in officer deaths is a concerning and dangerous trend; in Milwaukee and across the nation we have witnessed a callous, unsympathetic tenor growing from the criminal element and of those that refuse to take a stern stand to condemn such action. The law enforcement officers of this country need support more than ever.
Fortunately, there is strong community that does back the Warrior Guardians that keep us all safe. Certainly a fine example of support is depicted in the caring artistry of Lieutenant Greg Friberg (ret), who out of a desire to honor and remember them, created this wonderful memoriam drawing. Friberg knows firsthand how quickly an officer's life can be in jeopardy, having survived a close call of his own. On April 10th, 2013, while responding to a duress alarm, at the Wisconsin State Office Building in downtown Milwaukee, he suffered two stab wounds to the neck from a ten inch blade; near fatal wounds. Greg was able fight off the assailant.
Friberg thankfully survived and went on to retire after more than fifty years of service as a law enforcement officer. We are thankful he has shared his much-deserved retirement to create this wonderful tribute to Milwaukee's heroes in blue who laid down their lives for their communities. This depiction brings honor to all that serve!
Greg Friberg served the New Berlin Police Department as an officer, the Capitol Police as an officer, and the State Fair Police as a lieutenant, where he was the commander of the equestrian division/mounted patrol.