Law enforcement across Florida worked diligently to inform the public about how to stay as safe as possible during Hurricane Ian. Dispatchers tirelessly answered non-stop calls for assistance and sent help. LEOs deployed all over the state in their own communities and their neighboring communities to save citizens in danger in the flooding and destruction that followed the hurricane.
Florida National Guard
The Florida National Guard deployed all over the State of Florida. Images and information about them and their efforts are visible on LEO department pages all over the state.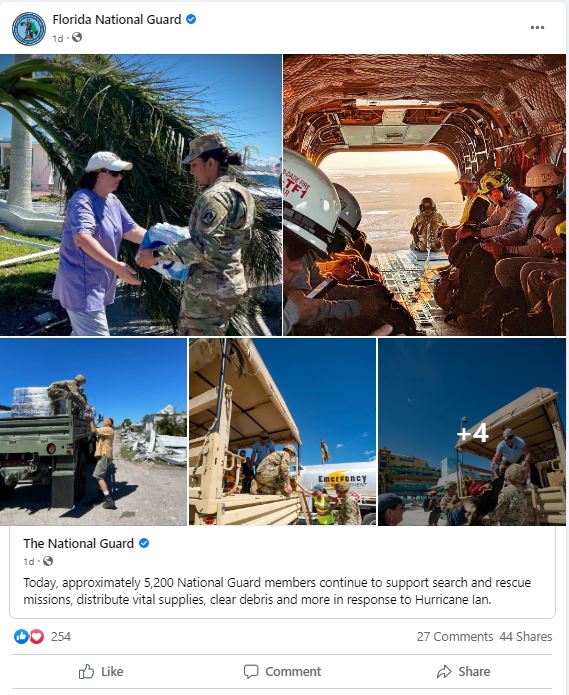 Fort Myers Police Department
Fort Myers Police Department held a press conference in which they highlighted ten other departments who joined them in protecting and serving the community of Fort Myers in the aftermath of record-breaking storm surges from the hurricane. Their own Marine Unit provided supplies and patrolled neighboring jurisdictions. Fort Myers LEOs and firefighters distributed donations of food and water throughout the city. Dispatchers from Hillsborough County Sheriff's Office joined with the Fort Myers Police Department dispatchers' team to handle the influx of emergency calls. A local restaurant and plumber provided food and plumbing services to the department to make sure officers had what they needed while they worked to save others.
A Miami-Dade Police Department Chaplain (pictured below) came to Fort Myers to lead officers in prayer prior to night shift.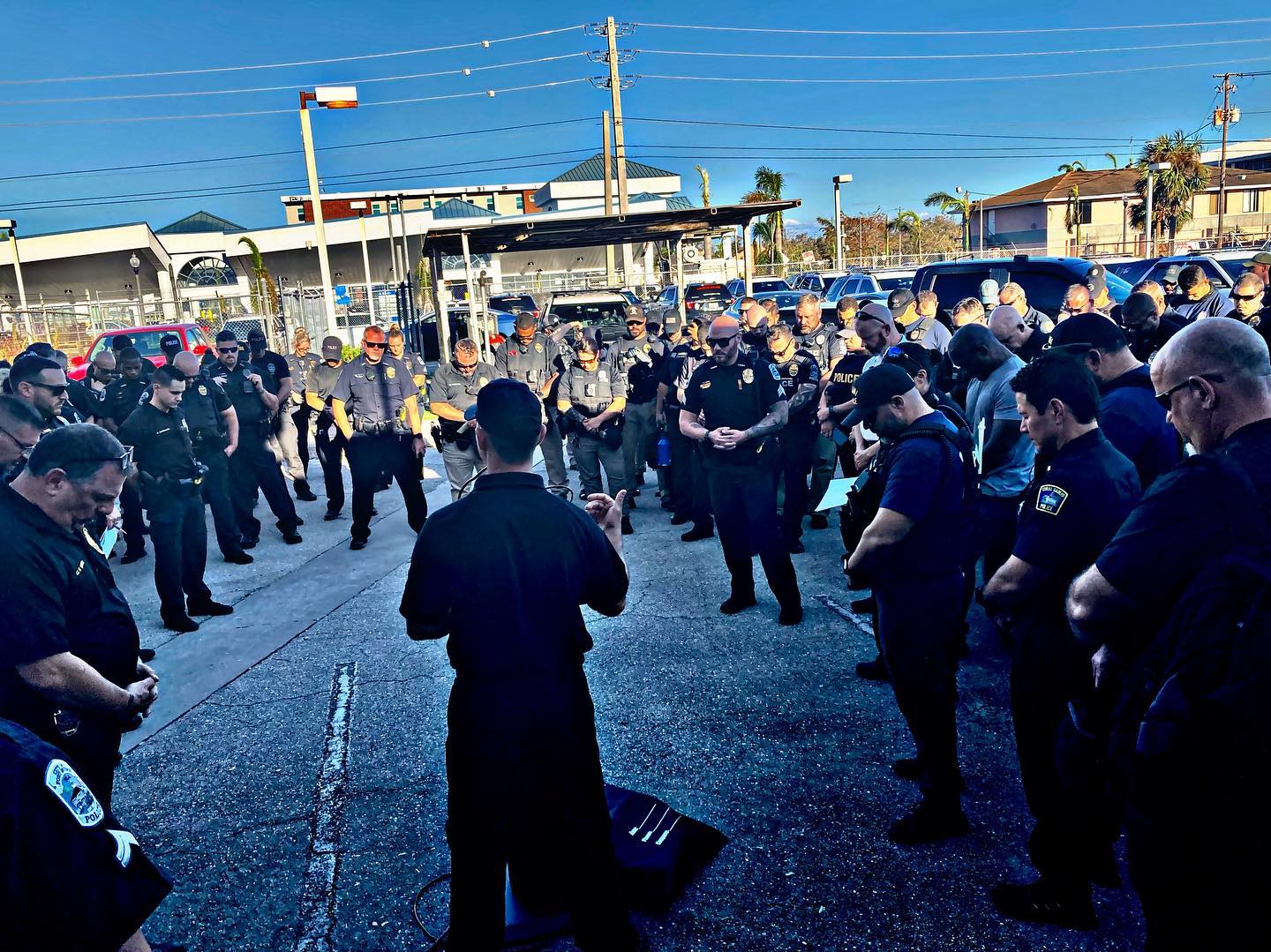 Clermont Police Department
Clermont Police Department posted safety tips, information on what to do if residents lose power, and gave updates on their social media page from the Chief of Police, Fire Chief, and Mayor. They also shared about a hurricane relief drive they are participating in with other LEO agencies in their county to provide clothing and water to charities in southwest Florida.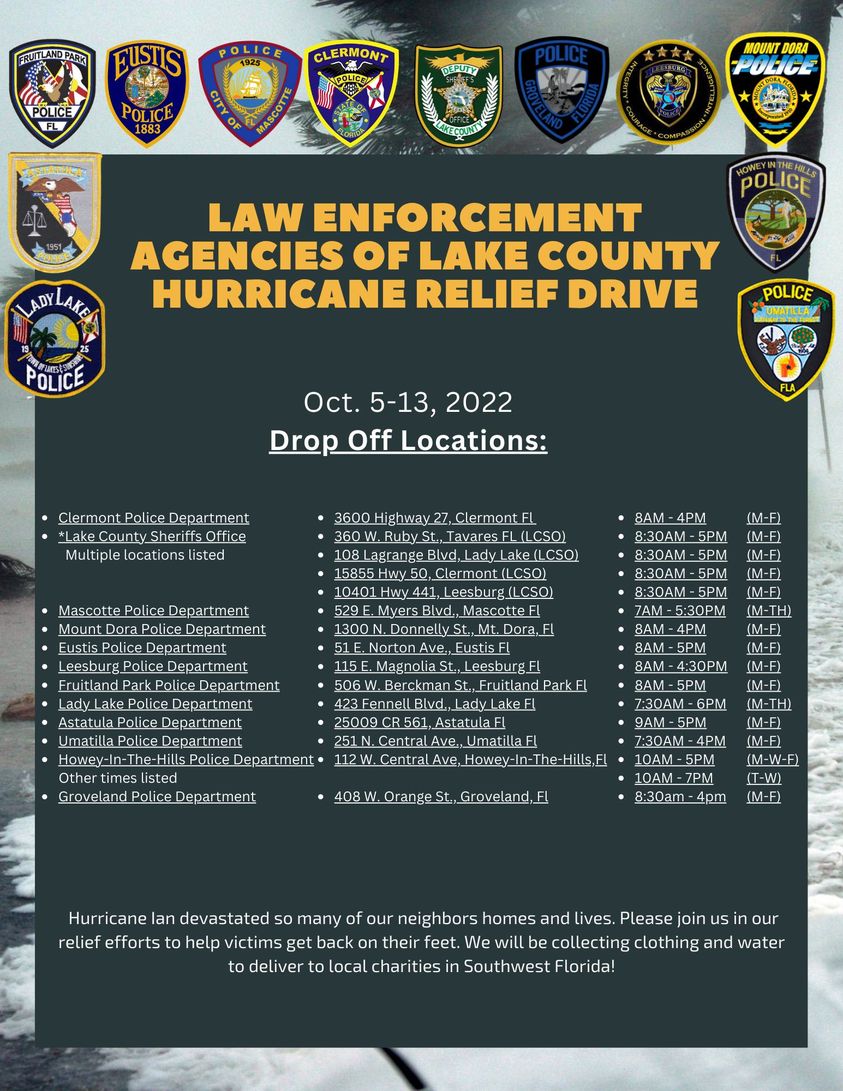 Daytona Beach Police Department
Daytona Beach Police Department held a community food drop; collected donations of food, household items, and bottled water; and posted drone footage videos and photos of damage and flooding on social media to warn residents. The department also posted about over 200 rescues they performed in a mere 24 hours, "Here are a few more images of the over 200 rescues we have performed over the last 24 hours.  The rescues continue and will until everyone is safe!"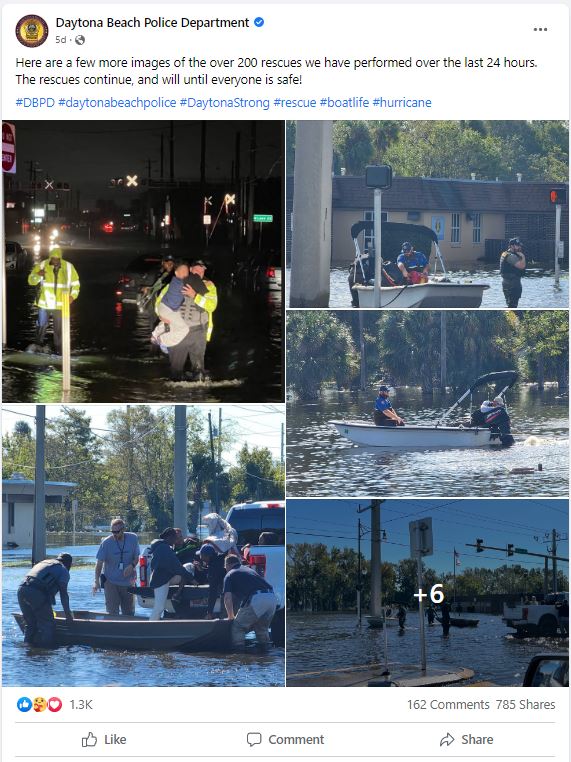 South Daytona and Port Orange Police Departments
Police officers and firefighters from South Daytona and Port Orange departments joined together to rescue people in severely flooded areas and to check on the safety of civilians who donated their time and boat resources to help in those efforts. Both departments posted storm updates and safety tips on social media. Port Orange Police Department also posted useful advice on storm cleanup/resources and how to avoid fraudulent contractors.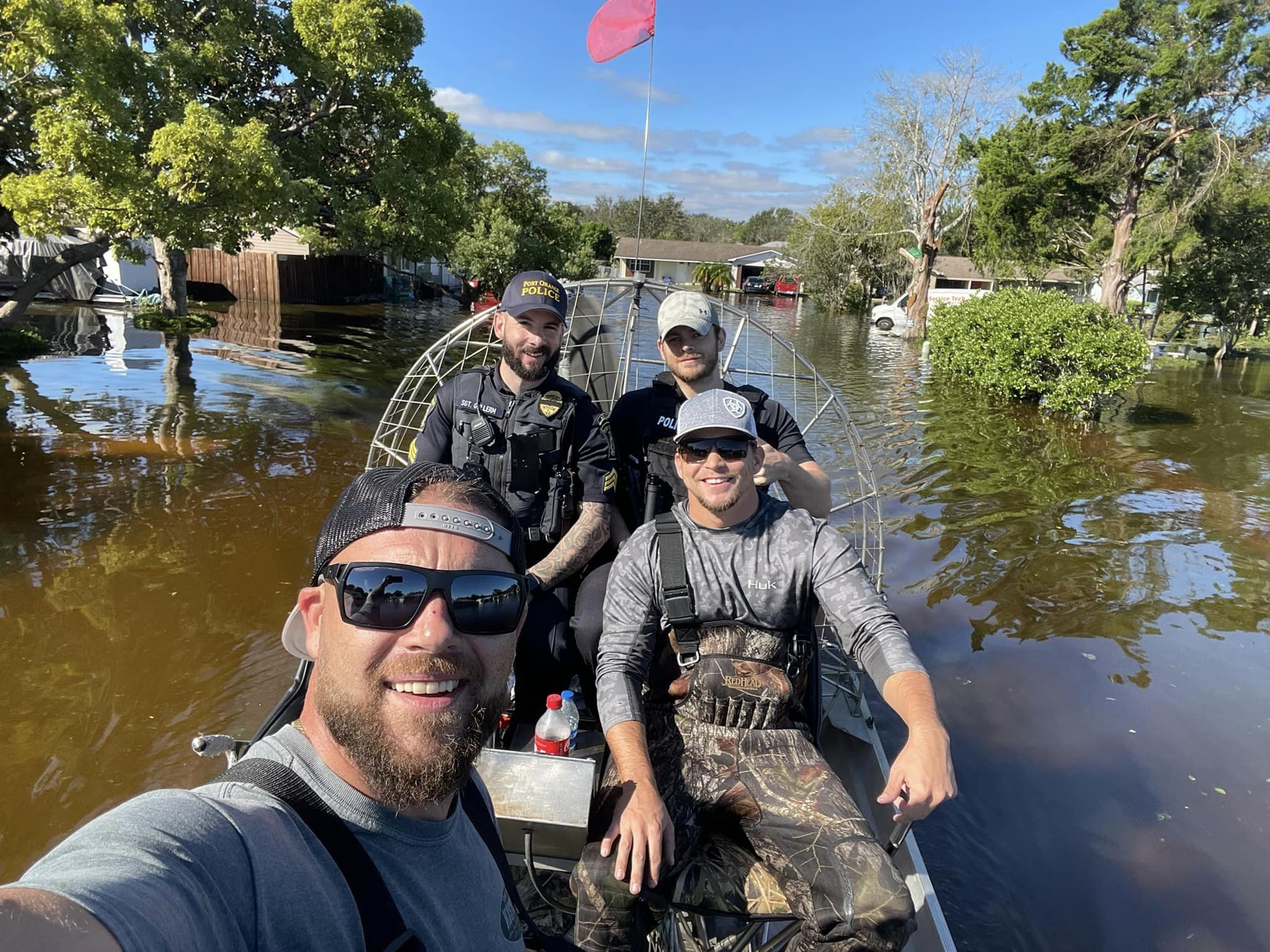 Sarasota Police Department
Sarasota Police Department posted announcements, safety tips, and helpful information throughout the storm and its aftermath. Sarasota Police Department sent their Emergency Response Team to assist the North Port Police Department every day and provided 250 to 300 rescues, welfare checks, and delivery of supplies. They sent officers to cook all three meals for North Port Police Department staff whose community was so heavily impacted by flood waters not only from the hurricane, but also from a Myakka River levee break afterward. Tarpon Springs Police Department sent food to Sarasota Police Department to show their support and since North Port had been hit more severely, the agencies sent the food to North Port Police Department.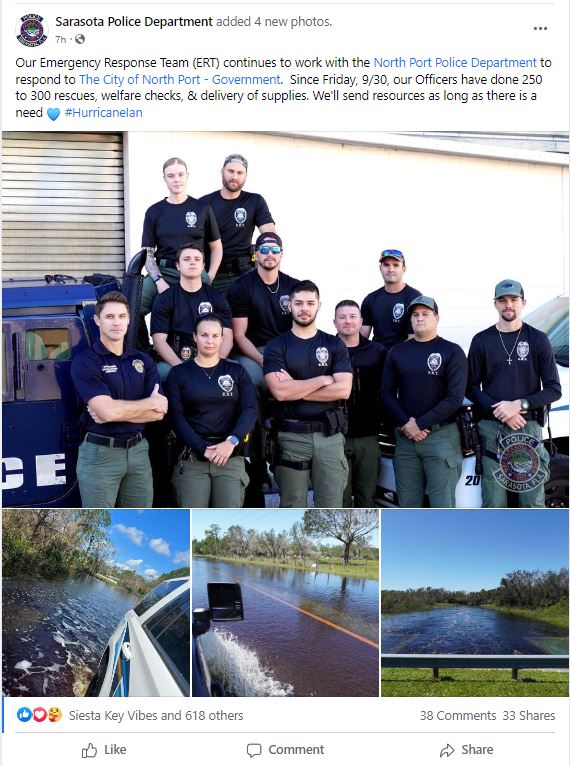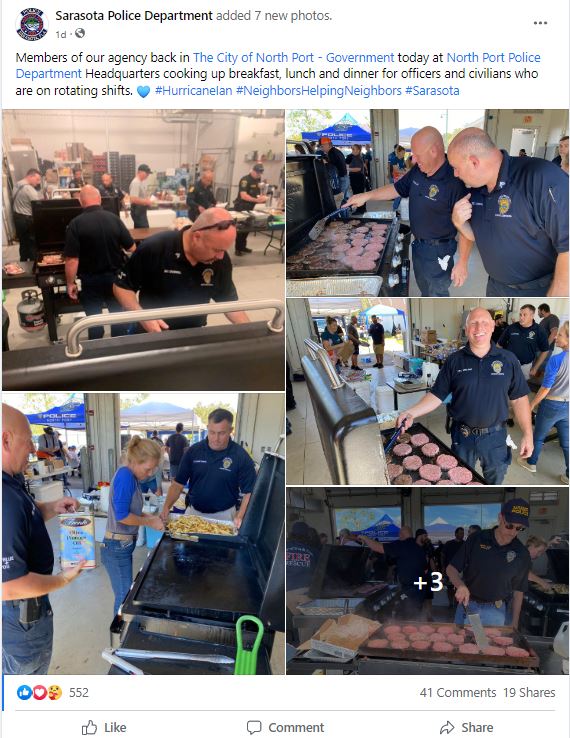 Indian River County Sheriff's Office
Indian River Sheriff's Office prepared for the storm and when other areas were harder hit, they deployed their Search and Rescue Team to relief efforts on the west coast of the state. They posted on social media, "This early morning, Sheriff Eric Flowers gave a briefing to our dedicated team as they geared up on their way to assist with the search, rescue, and relief efforts on the West Coast of Florida. They will be working day and night to aid those who have been impacted by the devastation left by Hurricane Ian." They followed up with the below update.