Law Enforcement Officers Relief Fund, Inc. – Update – The National Police Week has scheduled its in-person events to October 13-17, 2021 in Washington, D.C., but it will still hold virtual events May 9-15, 2021.  The rescheduling was necessary in order to coincide with guidelines under ongoing COVID-19 restrictions.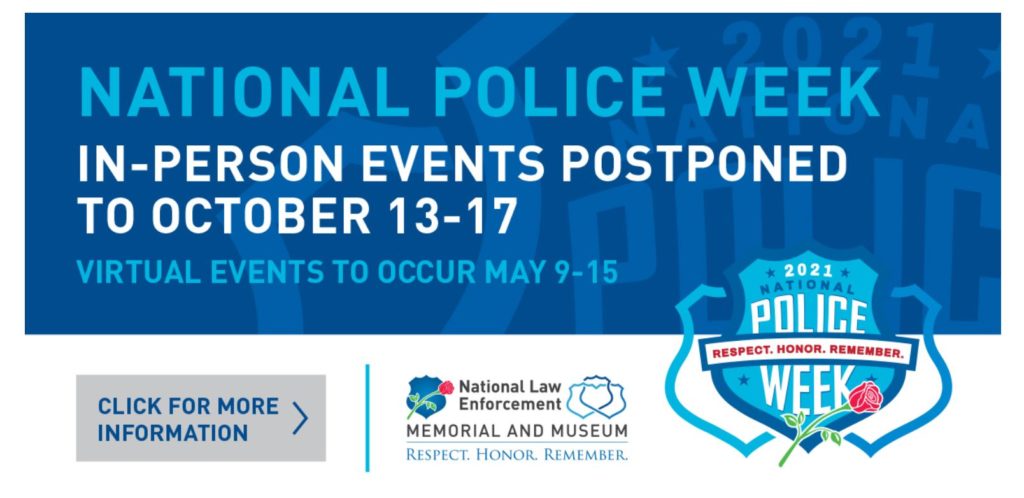 The October event will include the October 14, 2021, National Law Enforcement Officers Memorial Fund (NLEOMF) Candlelight Vigil, which will occur at sundown.   Due to COVID, planned events will include honoring fallen officers from 2019 and 2020.
In addition, the Concerns of Police Survivors (COPS) will host its National Police Survivors' Conference on Friday, October 15, 2021.  More information on COPS can be found at: https://www.concernsofpolicesurvivors.org/ and more information on the NLEOMF can be found at: https://nleomf.org/.
More information on the October events will be forthcoming.  National Police Week (NPW) follows the 1962 signing by President F. Kennedy for the designation of May 15 as Peace Officers' Memorial Day and the week in which May 15 occurs is National Police Week.  More information on Police Week can also be found on the Official Website of the Department of Homeland Security: https://www.ice.gov/features/police-week