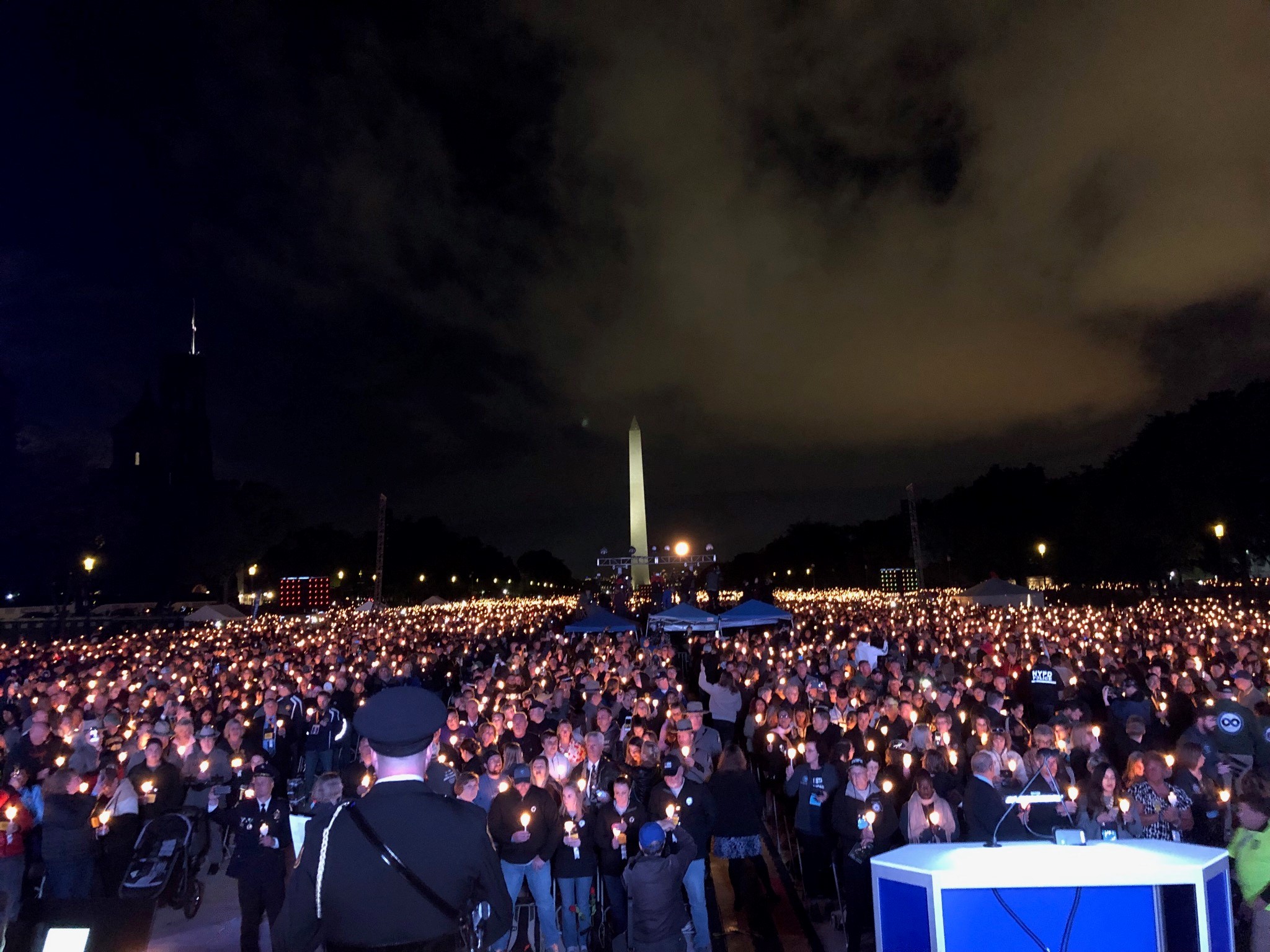 The following story is from the perspective of Alexis Bohannon. Alexis and her family attended NPW for the first time in 2021, as they honored her husband, St. Louis Metro Police Officer Tamarris Bohannon, EOW 8/30/2020.
I attended NPW for the first time in October of 2021, just a year and two months after my husband, St. Louis (MO) Metropolitan Police Officer Tamarris Bohannon, was murdered. Tamarris was shot in the head on August 30, 2020, while responding to a shots fired call.
Those fourteen months that followed were a blur of memorials and events. I was overwhelmed, and I kind of did not want to go to NPW. I did not want to deal with another memorial and be taken back to day one. In addition, each of our three kids dealt with their father's death in a different way, which added more to the already hectic time.
Looking back, I am very glad I went. I got to connect more with survivors I knew, and develop a relationship with other spouses. I also gained a new love for the officers and first responders from all over the country who showed up to honor our loved ones and make sure they are never forgotten.
One of the highlights of our trip to D.C. happened immediately after landing at Reagan National Airport. We were met with an honor guard at our gate, and officers escorted us where we needed to go, making sure we got our luggage and were taken care of. You could feel the love just radiating from these officers. It was a breathtaking show of genuine support.
That first day was extremely busy with registration, orientation, and settling in. Our local chapter assigned a liaison to each family. Having someone who had been through NPW before helped. I also had made friends with surviving spouse, Annette Jansen, at C.O.P.S. Kids Camp. She was my rock. Whenever I needed anything, I knew I could call Annette, whether it be at home or at NPW.
It was late in the evening by the time we decided to venture out from the hotel to visit the National Law Enforcement Officers Memorial Wall. We placed pictures of Tamarris on the wall and made a rubbing of his name. It was quieter late at night, and easier for us.
The second day seemed to go even faster than the first, and we were loading buses to go to the Candlelight Vigil before we knew it. We were met at the busses by an officer who led us to our seats and gave us a rose. It was at the vigil that I finally realized how many families were being honored.
C.O.P.S. past National President Emilio Miyares talked about his father and growing up after his father was killed in the line of duty. I will never forget when he shouted out to his mom saying he knew how hard she worked and she did a great job. I broke into tears at that, because that is how I want my kids to look back on today. We never planned on this, and I am learning how to be a single mother day by day.
The Survivors' Conference was tough for me. I can remember sitting in a debriefing listening to the stories of other surviving spouses, and being overwhelmed with emotion. I had planned to attend a session on trial preparation a little later in the day, but I was so overwhelmed I went back to my room and cried. The kids were having a blast at the Kids/Teens program and another survivor sent me her notes from the class, so I was able to take time for myself when I needed it.
By the time we got to the Peace Officers' Memorial Service, we were exhausted. It was an early morning, and corralling three kids while being tired is a task, even on a normal day. Luckily, the event was very structured, and it was easy for the kids and I to follow directions. At that point, in the week, the structure was welcome, as we all needed a bit of a break.
That night, the kids ran around the Picnic on the Patio with friends they had made throughout the week. I spent time with several other surviving spouses I met at C.O.P.S. Kids Camp. It ended the week on a light note, and was just what we needed.
At every stage of this journey, the C.O.P.S. organization has been there for me. It is a staple of my life, and my kids' lives.
My 12-year-old opened up during Kids Camp, and is already planning to try to come back as a mentor once she is old enough. My 8-year-old insists that he is maturing and that I will not have to worry about him when we go. In addition, my 7-year-old will talk anyone's ear off about the friends he made last year and how he cannot wait to see them again.
If I could go back a year and give myself some advice, I would tell myself it's okay to be overwhelmed, and vulnerable. I would remind myself to take NPW day by day, and that my new family of survivors will be there for me when I need them.
If you have questions or concerns about a trip to Washington, D.C. for Police Week, please do not hesitate to contact your local chapter or the National Office by calling 573-346-4911.