I.U.P.A. local unions and their departments across the United States posted on social media to honor those who gave their lives to protect us on Memorial Day this year.
Virginia Beach Police Benevolent Association in Virginia posted, "Today PBA34 pauses to remember all those lost across the generations in service to our country. We thank them (and their families) for their sacrifice. PBA 34 remembers and honors VBPD Officer Bradley (Brad) Harper, SGT. USMC, who was killed in action 3 August 2003 in IRAQ."
They also showed their thanks to the public safety professionals working this Memorial Day by providing some delicious BBQ, "Today PBA34 was at the 2nd precinct (oceanfront) to provide a great BBQ for the officers assigned to the area as we officially start summer ops with #MemorialDayWeekend" and "Thank you to all of our public safety partners who will be working side by side with us this weekend helping to keep everyone safe! Thank you VBFD, VBEMS, VBSO, and of course our forensics and dispatch folks!" Photos of officers enjoying the delicious BBQ are on their Facebook page here.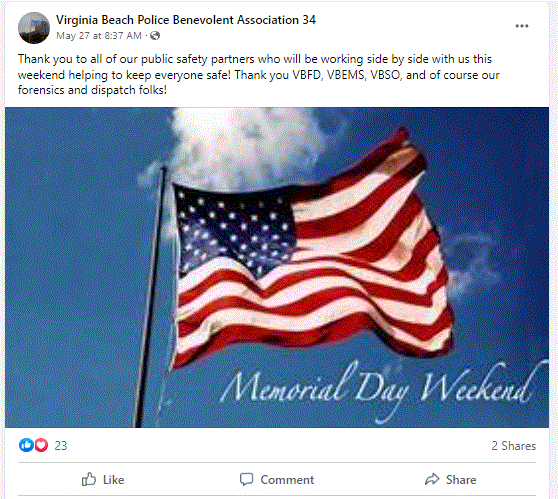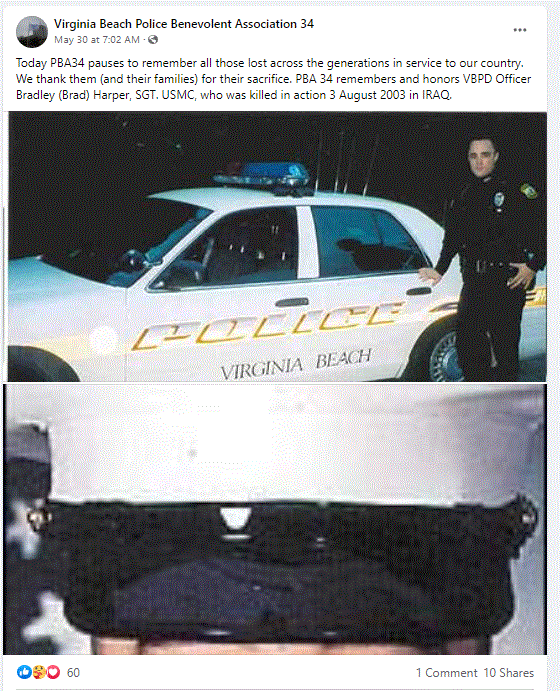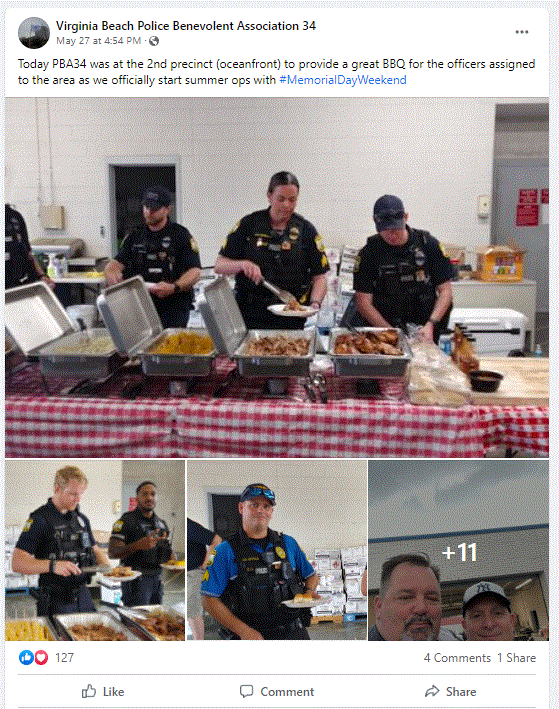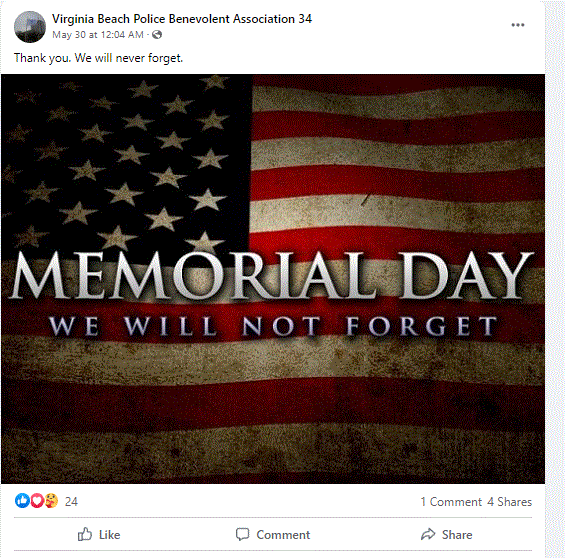 Memphis Police Association in Tennessee posted in honor of Memorial Day as well, with a photo that said, "Memorial Day: Remember and Honor" and a second post that said, As you prepare to celebrate Memorial Day, please remember the true reason for the holiday. Consider taking 3 minutes to watch this video tribute to Memphis Police Department's Fallen Officers.  It was created by the Public Information Office and shared at the MPD v MFD Softball game Saturday.  #gonebutnevereverforgotten #bluefamily #thinblueline #memorialday #honorthefallen". The video can be viewed on YouTube here.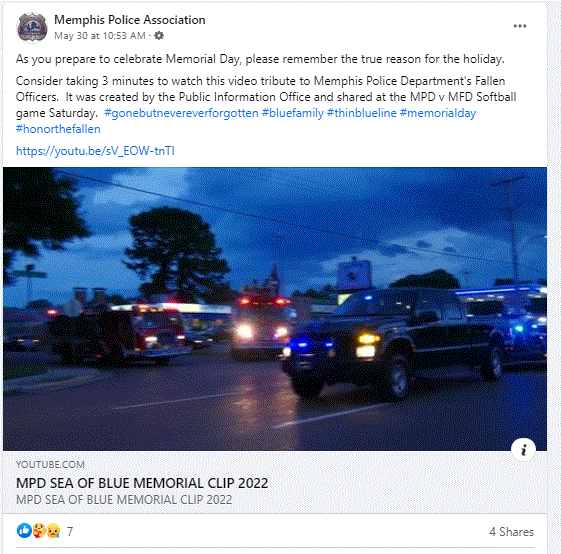 Lebanon Police Department in Missouri posted a photo that said, "Memorial Day: Remember and Honor" along with a message from the department, "Happy Memorial Day! Today we remember all the men and women who have given their lives in service to our country."
Monroe Police Department in Louisiana posted, "‪Today, we honor our heroes who made the ultimate sacrifice in the defense of peace, freedom, and our way of life." They also posted safety tips for the public, reminding everyone to stay hydrated and have water, sunscreen, and a designated driver.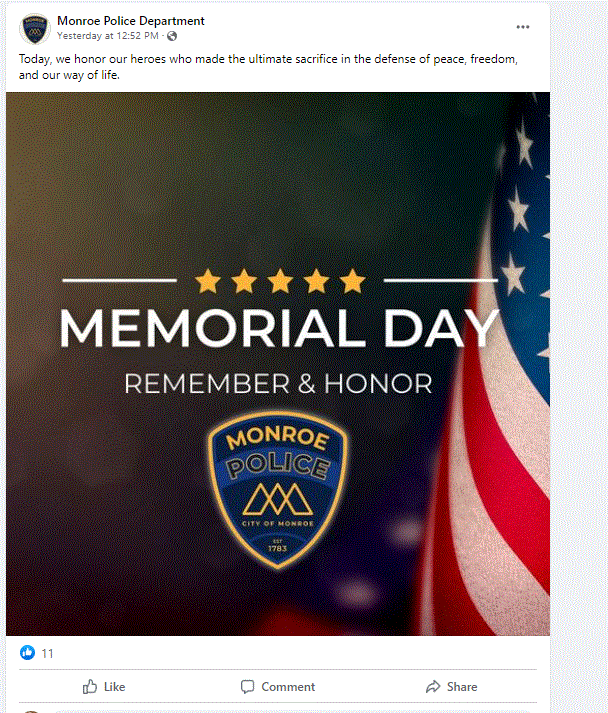 Lake County Sheriff's Department in Indiana posted a video, "The Lake County Sheriff's Department pauses to observe Memorial Day. We honor all military members and police officers who have served. A special thanks to everyone who joined us at our annual Lake County Sheriff's Department Police Memorial Service this year." The video can be viewed on their Facebook page here.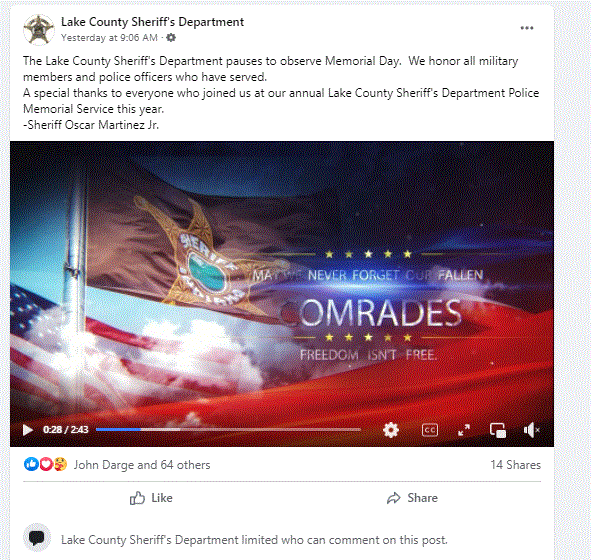 Sarasota Police Department in Florida posted, "It was our honor and privilege to take part in the annual #MemorialDay parade in the City of Sarasota, Government.  The theme for the 2022 Memorial Day parade was 'All Gave Some. Some Gave All.' Our Officers were honored to be a part of this annual Memorial Day event. They were out early closing roads, checking the parade routes and making sure everything ran smoothly. The parade included performances by the Sarasota Military Academy band and drumline and participation from local law enforcement agencies, first responders, honor guards, veterans' groups, community organizations and more!"
A few days later, they posted their appreciation for a cake that Publix gave to the PD staff on Memorial Day, "THANK YOU to Publix on Bay Street in Sarasota for stopping by Monday to drop off one of their delicious cakes! ? ? The cake says 'Honoring our Heroes. Thank you for your service and dedication!' Thank you for your support and appreciation, Publix! ??☀️" Photos from both posts are available on their Facebook page here.